Welcome to the 102nd episode of the fight for a happy life, "3 Halloween self-defense lessons."
When I was little, Halloween was a big deal. This is because in our city you were allowed to "carol or treat" two nights instead of one!
Unfortunately, I have learned hard that even though life can bring you delicacies, it can also bring serious tricks. I hope my tragic story helps you write a story of triumph!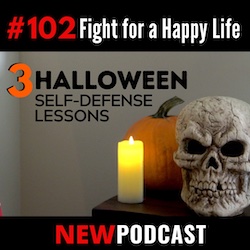 Well – to be fair, my story isn't really "tragic," but at the time it was. 🙂
Either way, I have a few tips on self-defense to help you strengthen your personal safety and also strengthen your quest for success and happiness. I hope you can join me!
Listen "3 Halloween self-defense lessons," you can either:
Podcast: Play in new window Download | Insert
Subscribe to the podcast:
To watch the video version, go below.
If you want support this show, share the link with a friend or leave a quick review iTunes. Thank you!
Oh – and don't forget to sign up free email updates so you can have new shows sent to your inbox as soon as they are published.
Thanks for listening! Keep fighting for a happy life!
3 Halloween self-defense lessons
Here is the video. If the player does not work, click on this direct link.
As always, if you would like to continue the conversation, please feel free to leave a comment here or through my contact page.
Related