Welcome to the 100th episode of the fight for a happy life, "Throw the first blow."
That is right! We've reached episode 100. I say "we" because if you weren't here, I wouldn't be here either, so thank you for your support! 🙂
In this show, I share my thoughts on two very different strategies for living a happy life. I would call the first "Quiet and Private" and the second "Loud and Proud." Believe me – I have tried both strategies and the difference is significant!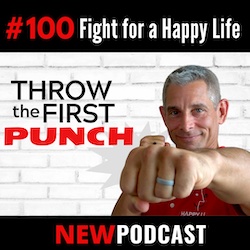 Of course, these two strategies can also be applied to your martial arts practice. So if you want to make the most of your training time, I have some advice for you –
Stop waiting for things to happen and DO THINGS!
Send that email.
Take that class.
Tell your story.
Ask for help.
Throw the first shot!
Listen "Throw the first blow," you can either:
Podcast: Play in new window Download | Insert
Subscribe to the podcast:
To watch the video version, go below.
If you want support this show, share the link with a friend or leave a quick review iTunes. Thank you!
Oh – and don't forget to sign up free email updates so you can have new shows sent to your inbox as soon as they are published.
Thanks for listening! Keep fighting for a happy life!
Throw the first blow
Here is the video. If the player does not work, click on this direct link.
As always, if you would like to continue the conversation, please feel free to leave a comment here or through my contact page.
Related