The opening of the Bass Performance Hall for the first concert of the Fort Worth Symphony Orchestra in the season 2022-23 opens in September, it will also mark the beginning of a new era for the 110-year-old organization. The new artistic vision, as described by FWSO President and CEO Keith Cerny, is one that has taken months of discussion, planning and strategy with their newly appointed music director Robert Span and board members, focusing on everything from programming to audiences. commitment.

"Of course, this includes some major guest conductors and great guest artists, but also some new elements," says Black. "Specifically, we incorporate what we call 'concert theater', where we take symphonic performances and add them in new ways."
One example is the 21-23. April 2023, when Stravinsky enchanting ballet music Firebird, at a concert featuring members of the Texas Ballet Theater. The program, which Robert Spano framed as the theme of a "world of enchantment", includes the world premiere of a work commissioned by Brian Raphael Nabors, Earth and Heaven: Stories from the Fatherland. "One of the things we are very aware of is the commissioning of new works and the presentation of new works, so we have several living composers represented during the season," says Spano. "I'm most excited about Brian Nabors because I've only recently started working with him and I think he's just exceptional."
The second work to order earlier this season will take the form of a new saxophone concert by American composer Douglas J. Cuom, featuring Grammy®-winning saxophonist Joe Lovano. The Harlem-inspired evening also includes works by Bernstein, Ellington and Gershwin, 14-16. October 2022.

­­­
"One of the things Robert and I really enjoy is helping the audience get to know the composer, because our view is that when they know what the composer is trying to achieve musically, the audience is more likely to react to whether that goal worked or not, Says Cerny, referring to the upcoming FWSO
Meet the composer
a series featuring short pre-concert videos of composers talking about their work, or shows based on interviews moderated by Spano, Cerny, or Music Director Laureate Miguel Harth-Bedoya. "We've done a few already; the audience really enjoys them and it is an important part of our approach to the future, "notes Černý.
Maintaining a balance between new work and traditional repertoire is usually the goal of every major orchestra. Wagner fans will enjoy the immersive concert of the works of the German composer November 18 – 20, 2022, which will be accompanied by projections of ethereal watercolors by the British illustrator Arthur Rackham. Rackham, known for his depictions of the Brothers Grimm fairy tales and many other classic folk tales for fairy tale books, has created dozens of drawings based on Wagner's The Ring of the Nibelung at the beginning of the 20th century. Orchestral music from Ring The main goal of the program will be, even if the famous Wagnerian soprano Christine Brewer will perform on the stage, who will sing songs from Tristan and Isolde and Götterdämmerung. It begins FWSO's three-year commitment to researching Wagner's music, which serves as a programmatic tour for the orchestra and its patrons, and coincides with the length of its three-year contract with Span. "I think it's a very valuable way of working for us because some things take more than a season to implement and some trajectories take time," explains Spano. "It will take a while to get to know the orchestra more intimately, and in time it will come very naturally."
During the season, the symphony will be joined by an impressive line-up of other nationally and internationally acclaimed soloists and guest conductors; star cellist Yo Yo Ma is a guest artist at the gala performance of Elgar's Cello Concerto on February 25, 2023. Popular Fort Worth and Cliburn silver medalist Joyce Yang will perform Rachmaninoff's Piano Concerto No. 3 with Master Edo de Waart 7-9. October 2022, in a program that includes the composer's third symphony. Spano will conduct Mahler's Symphony No. 1 and Tchaikovsky's Violin Concerto with soloist Gil Shaham from March 10 to 12, 2023, and Miguel Harth-Bedoya returns to Bass Hall to lead Elgar's Enigma variation, 5-7 May 2023. Spano ends the season 19-21. May 2023 with a production of Haydn's oratorio depicting the beginning of the world, The attack, accompanied by the famous vocal ensemble Seraphic Fire.
During Harth-Bedoy's 20 years at FWSO, the organization's strong relationship with the community and supportive spirit have become its trademark, a trend that Black and Spano plan to build on in the coming season. Establishing acquaintance between individual musicians and their patrons strengthens ties and strengthens the role of the organization as a regular in the cultural landscape of the city. The Symphony launched its chamber music series at the Kimbell Art Museum last year and plans to continue with three more concerts in the coming season, with Spano joining each performance as a pianist. "It's my opportunity to work with orchestra members in a more personal way, on a smaller scale, and actually playing the piano with people is just another form of handshake that's so instructive about how you understand music," says Spano. , adds that from a greater perspective for the audience, it is a picture of who the musicians are as individuals.
In addition, he will focus on soloists from the orchestra at several concerts this season; concertmaster Michael Shih (Spano calls it a pillar of the organization) will be the soloist of Glazunov's Violin Concerto with guest conductor Tianyi Lu. The silvery sound of Jake Fridkis' main flute will enliven Reinecke's somewhat lesser-known concert, led by Robert Abbad.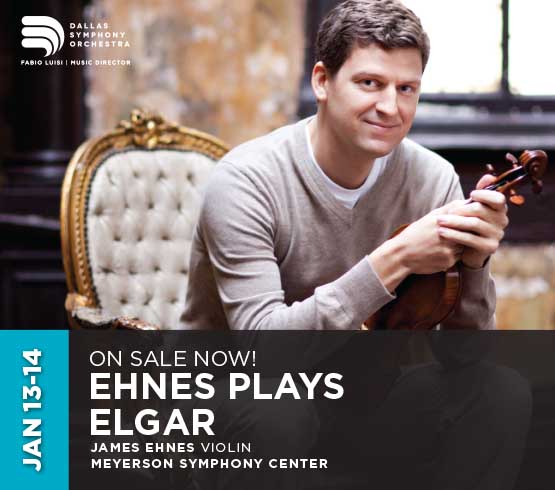 The organization has covered a lot of things in the last year. Over the course of ten months, they have not only appointed a new music director, but recently named Kevin John Eduseie as the main guest conductor, who will give two concerts next season. Black, who is already well established in Europe, says the German conductor is quickly gaining a name in the United States. "It brings such elegance and nobility to the stage," says Černý. "I think the American audience will respond really well to him."
In a season full of new names, new faces and new works, she will still be opened by a number of well-known classics. Mexican pianist Jorge Federico Osario will join forces with the orchestra on September 9-11 at Beethoven's majestic Piano Concerto No. 5 ("The Emperor") in an evening that will also be performed by Brahms and Schubert. "We wanted to start the season with something like a museum foyer – the most classic program we could think of," says Spano with a smile. "I can feel the columns entering the season. I think it's great. "
—AMY BISHOP