It's officially the New Year, and many of us have made New Year's resolutions to eat more nutritious foods and meet our fitness goals. We are here to tell you that you can still stick to your health goals while including your favorite foods – such as beef. Beef is not only tasty, but can also help promote a healthy lifestyle. Beef not only has a great taste, but also contains 10 essential nutrients such as vitamin B12, zinc, and iron 25 grams of protein only in one 3 ounce serving. We have perfectly balanced beef dishes for you, which are super tasty and will help you start the new year properly.
Beef San Choy Bao (Chinese Salad Cup)
These ground-inspired salad cups with ground beef form a balanced weekly meal. Combine lean ground beef in a pan with vegetables, Chinese sauces and you will have dinner on the table in just 25 minutes. As a nutritional bonus, this recipe contains protein, dietary fiber and B vitamins.
Grilled Beef Kefta Kebab
Light a grill for this Middle Eastern-inspired beef Kefta. This recipe, made from aromatic spices, is full of flavor and nutrients! Add these delicious kebabs to a salad with vegetables, feta, cherry tomatoes and your favorite dressing for a perfect balanced meal. It has never been easier to prepare a satisfying and delicious beef Kefta at home.
Air fryer Ginger Sesame Beef with green beans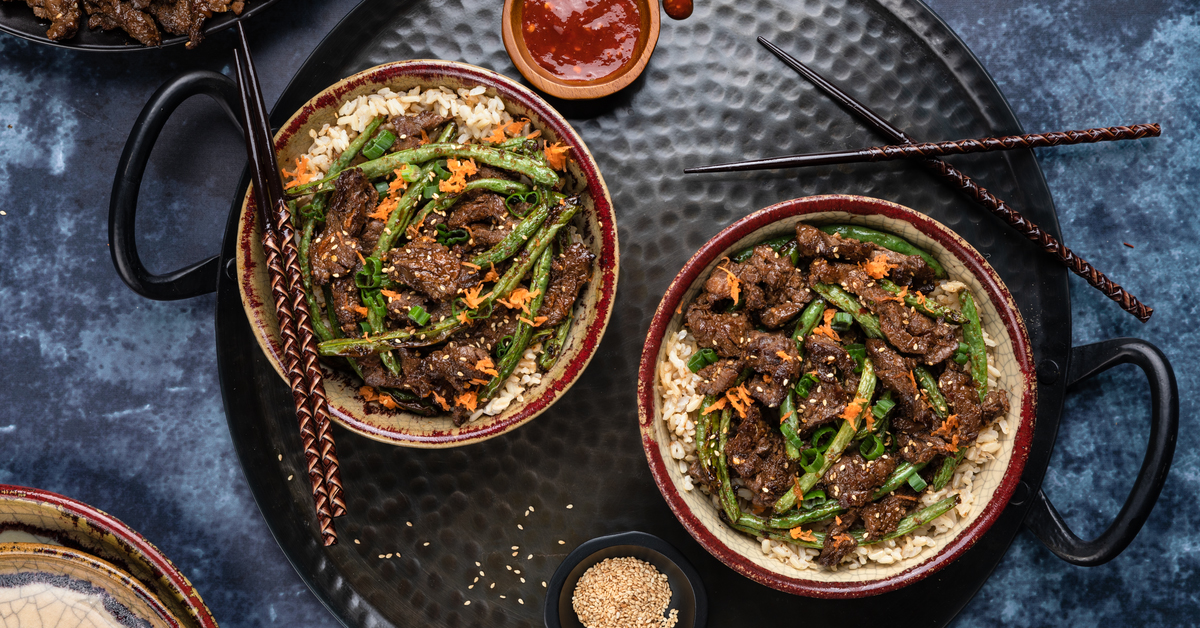 Do you have a fryer during the holidays? You will want to bookmark this perfectly marinated recipe for ginger sesame beef. Only one serving of this delicious beef recipe contains 36 grams of protein! Pair this ginger sesame meat and crispy green beans with brown rice for a perfect balanced meal.
Lazy day beef and vegetable soup
Do you have a lazy day? Prepare this easy and soothing beef soup that uses the ingredients you probably already have on hand. As an added bonus, you can increase your zinc levels and support a healthy immune system with this clever but saturated soup of stew, chickpeas, pasta and frozen mixed vegetables. This soothing beef and vegetable soup is the perfect comfortable winter meal.
Steak harvest salad
Enjoy the tastes of autumn and winter with this spicy steak salad. Flank Steak is served with roasted beets, brussels sprouts, quinoa, pomegranate seeds, pear, goat cheese and topped with ground mustard and flavored apple cider vinegar dressing. This protein salad is full of flavor and approved by a registered dietitian.
Za'atar Beef Bites air fryer with Tahini sauce
Make these pieces of beef in the fryer tonight! Mouthwatering Top Sirloin is deliciously flavored with Za'atar, Middle Eastern spices, and topped with tahini cream sauce. Serve these delicious beef pieces with fresh cucumber and tomato salad.
Mediterranean Steak and Quinoa Bowl
Adding balanced beef dishes to your routine doesn't have to be complicated. Enter the Mediterranean Steak Quinoa Bowl. This recipe is satisfying, healthy and full of bold Greek and Mediterranean flavors. A bowl full of protein and vegetables is also more exciting than a sad salad.
Steak and egg pan with chimichurri and sweet potatoes
Brunch, lunch or dinner, this Steak & Egg Chimichurri Skillet is sure to please! With a delicious steak served with sweet potatoes, eggs and spicy chimichurri – this nutritious meal is anything but boring. As an added bonus is this recipe Approved by a registered dietitian!
Steak dinner with cumin
Eating a well-balanced meal is easy with this dish on the plate. Flat Iron or Top Sirloin Steak is prepared in an oven with sweet cumin-powdered potatoes and green beans as a nutritious meal every day of the week. Only one serving of this recipe is full of protein, iron and fiber.
Thai beef salad
Do you want to keep up with your health and fitness goals this year? This balanced Thai beef salad will make it easier for you. Grill Inside Skirt Steak with delicious Thai dressing and add to vegetables and cherry tomatoes as a filling and protein-rich dish.